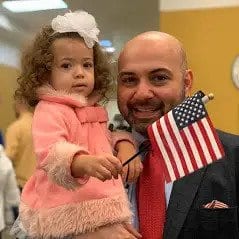 Naturalization is the epitome of the American Dream®

. Our office helps clients achieve their American Dream®

, even if it means we have to file concurrent petitions to achieve it. Filing a naturalization petition while an I-751 is pending may be a great way to decrease the time these petitions are pending.
I-751 Petition Processing Times:
The I-751 petition is the petition used to remove conditions on permanent residence. Under the Marriage Fraud Act of 1985, a petition for permanent residence could only be approved by the Service for 2 years. The conditional permanent resident must then apply to remove the conditions 90 days before the expiration. The couple must then appear for an interview before the Service. Only after a successful interview does the immigrant become a full permanent resident. A denial of the petition will lead to removal proceedings for the immigrants, during which he may renew the application before the immigration judge.
The processing times for I-751 petitions have become very long. The service is taking up to 4 years to adjudicate these petitions. This puts immigrants in a tough position.
Naturalization During the Pendency of the I-751:
Naturalization is the process under which a lawful permanent resident becomes a United States citizen. A permanent resident must pass an English and a civics exam and take the oath of allegiance to become a citizen.
In addition, a lawful permanent resident must meet the physical presence and Good Moral Character requirements. Physical presence will be decreased to 3 years if the immigrant is married to a United States citizen. This advantage is in the law to give spouses of United States citizens an advantage.
So, if the lawful permanent resident has accrued the 3 years of physical presence, he may apply for naturalization. He or she could do so even if the I-751 petition is still pending.
Interview and Adjudication of Both Petitions:
The Service will adjudicate both petitions at the same time during the interview. The couple will have to appear together to the interview and must first prove that their relationship is bona fide. If the officer is satisfied, the Service approves the I-751 petition. Then, the officer conducts the naturalization interview. The applicant must then pass the English and civics exams. Once successful, the Application for Naturalization (N-400) is approved and the Service schedules the appointment for the swearing-in ceremony.
Filing both petitions at the same time may help move them along. Our office has recently won several of these petitions. Of course, this is not a promise of any results in any other case since cases vary by facts. If you have a long-pending I-751 petition, then call us to apply for your naturalization.
Petitions to Remove Conditions on Permanent Residence (I-751)
Removal of Conditions on Residence (I-751)
3 Things to Avoid at Your Non-immigrant Visa Interview
All You Need To Know About Citizenship Through Naturalization